News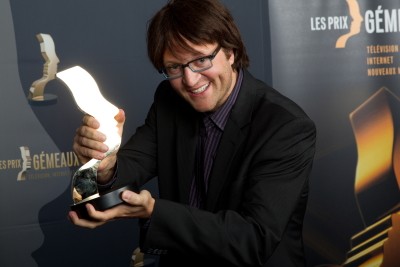 Montreal (Québec), September 21 2011. It has become a common occurrence in recent years for Montreal-based Image Entertainment Corporation (IEC) and its eco stars Walter and Tandoori to be recognized for an achievement or a breakthrough performance, all to promote the environmental health of dear old Planet Earth! Last Sunday they were recognized again, this time in their own backyard at the 26th annual presentation of the Gémeaux awards in the category for best program or animation series. This popular and always eagerly anticipated gala represents the Quebec version of the Emmys.
The road to this victory wasn't a "slam/dunk" certainty by any means. Among the finalists were several popular and highly regarded productions including
3 et moi, Petit lapin blanc, Vie de quartier and, of course, Walter&Tandoori. "While you don't get into this for the awards which might follow, it sure feels good to be recognized, especially when you consider the other productions that were nominated. This shows to what extent Quebec-based animation has evolved" beamed company president and founder, Sylvain Viau. This recognition closely follows last year's winning of the Ernst & Young International Entrepreneurship Grand Prix gala in the Media and Entertainment category, an award that had not been given for the three previous years, with the last recipient being Guy Laliberté of Cirque du Soleil.
The mission of IEC is to produce high-quality television and cinematographic projects for children and the family, using state-of-the-art technologies. Featuring a persuasive, yet easy going environmental message, it has quickly propelled its productions into homes on several continents. The animation star of the company, Walter, has received several other awards since 2006, the year the character was first introduced to Canadian audiences. These include two prizes in 2010 from French Canada's academy of television and cinema, one for the quality of the production and the other for its burgeoning international exposure. Other accolades include 2 previous nominations for a Prix Gémeaux.
Mr. Viau added, "We are only just starting, really. While there are already so many effective multi-platform educational and entertainment aspects to our Walter property, the accelerating need to raise awareness among children and their families around the world to the plight of our planet tells us that there aren't enough hours in a day to go in all the directions we want, while still keeping our work at the high level for which it is recognized."
IEC has also coproduced several internationally acclaimed series now broadcast in over 200 countries. They include Totally Spies, Martin Mystery, Team Galaxy, Monster Buster Club and The Amazing Spiez, with more to be announced early in the coming months.